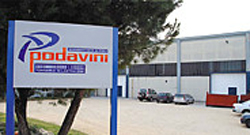 Podavini Gianbattista e figli snc is an active reality in the spinning of metal sheet and sheet working generally.
Our company has a deep-rooted experience dating from 1963, continuously improving and renewing its production, and in 1980 inserting its first CNC sheet lathe. Since then, evolution has continued under the sign of precision, performance and reliability.
With the aim of being a reference point for our customers, over the years we have added other operations in order to supply the product complete.
Based on our profound knowledge of materials, we continue to add innovations that come from constant research into solutions that offer the best quality-price ratio.
Certified with research centres and companies throughout Europe, Podavini Gianbattista e figli snc is able to satisfy customers' requests in many market sectors.
Among our customers there are companies operating in the following fields:
automotive industry and transport; irrigation; electro-mechanics; agricultural machinery; filters; textile machinery; illumination; heating; food industries; silos and tankers; chemicals and powders; telecommunications; building industry; air-conditioning; plastics.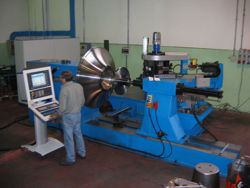 Podavini Gianbattista & figli snc combines forty years'experience , innovation and superior quality in CNC spin –forming.
As part of our policy of continuos improvement in quality , we have recently added to our fleet of machinery a top-performance CNC lathe that features the following:
• Max workable disc Ø2000 mm
• Max stainless steel thickness 6 mm
• Max carbon steel thickness 8mm
• Max aluminium thickness 12mm
We also handle copper, brass, coated materials and specials alloys