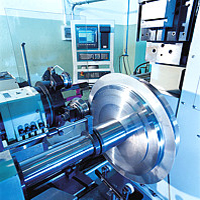 Our main activities consist of spin forming and we therefore have a wide range of numerically controlled machinery allowing us to produce series of high-precision parts.
All our machines are connected to the network controlled by the technical office, also responsible for the development of drawings, using CAD, and the programs necessary for production.
We use spin forming and flow forming on various materials: carbon steel; stainless steel; coated materials; aluminium and alloys; copper; brass.