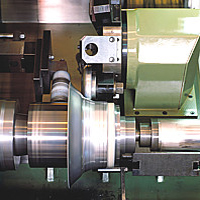 From designer item to precision tools, from metal structures to telecommunications , the market demands continual innovation while maintaining a high standard of quality.
A vast fleet of machinery and four decades' experience enable us to provide perfect solutions in CNC spin forming and metal working in general .
We have customers in all fields of industry that use metals, carbon steel stainless steel, aluminium, brass, copper and many more.
As we also do welding and assembly, we are a true all-round supplier that uses state-of-the-art technology
And a customer oriented approach to generate added value and meet the challenge of an increasingly competitive market.
Cooperation with external partners for finishing works
Over the years we have developed a network of external partners which allows us to complete our offer with operations such as PAINTING, GALVANIZING, HEAT TREATMENTS and DRILLING [2D and 3D LASER].